Black protesters protect police officer separated from his squad in Kentucky
Protesters in Michigan chant 'join us' to sheriff – so he does
Not all protests and actions by protesters angered by the death of George Floyd by a Minnesota police officer have been violent.
In a touching gesture protesters protect a police officer who was separated from his squad in Kentucky.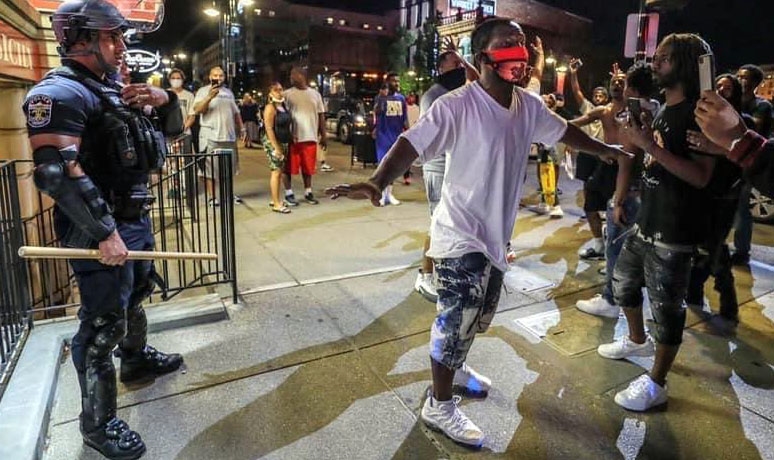 People responded to the gesture with warmth.
"This simple act of kindness made me cry. We're supposed to be taking care of each other," said Ruth Sokey on Twitter.
Alex Garner replied, "Lord, thank you for this glimpse of hope in the dark."
"This is how we heal our divide. This is the kind of kindness we should all afford each other," said Twitter user Atlas Gaunt. "God bless these people."
Black protesters protect police officer separated from his squad in Kentucky Click To Tweet
In Flint, Michigan, protesters chanted "Walk with us" – so the sheriff did.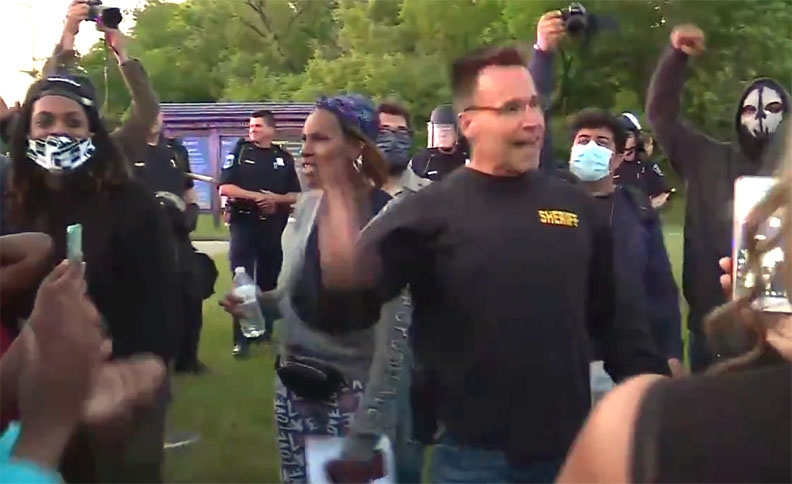 Oh my God it's happening in Flint too.

Protesters chanted: "WALK WITH US!!"

So the sheriff and his men joined the protest.#GeorgeFloydProtests pic.twitter.com/igRsMyD5aD

— Joshua Potash (@JoshuaPotash) May 31, 2020
Silent protest springs up in Philadelphia.
Silent but powerful protest at City Hall where people are taking a knee at a social distance. #GeorgeFloyd #Philadelphia more @KYWNewsradio pic.twitter.com/yzODi149OJ

— Hadas Kuznits (@hadaskuznits) May 30, 2020
And there were peaceful protests like these two in Minnesota where protesters united in silence and another where protesters laid on the ground with their hands on their back.
Of course the media won't share this beautiful moment of silence in Minneapolis. #GeorgeFloyd #BLACK_LIVES_MATTER #JusticeForGeorgeFlyod pic.twitter.com/Sy0pQeRlT0

— fien (@feline_lwg) May 31, 2020
This is truly amazing. Peace & love. #GeorgeFloyd pic.twitter.com/TLzkjmU4U3

— Jesus Rodriguez (@jesusrodrxguez) May 31, 2020
There are also peaceful protests happening around the world like this one in London, England.
peaceful down here in Trafalgar Square for the protest at the moment – don't let the media tell you otherwise! It's an anxious time though being amongst a protest especially with what's happening in the world x #GeorgeFloyd ✊🏾 pic.twitter.com/iKDofGWfwI

— Shola Aleje (@beefheartzappa) May 31, 2020
An Atlanta police officer talks to a crowd of protesters.
Violent protests across the United States continue over the death of George Floyd in Minneapolis by a police officer. The riots at times are resulting in looting. The National Guard was called to help in Minnesota and Georgia.
Floyd died after a white officer in Minneapolis choked him with his knee for several minutes. That officer, Derek Chauvin, was charged with third-degree murder and manslaughter earlier on Friday. Three other officers present haven't been charged.
On Thursday D.C. Police Chief Peter Newsham called the police officers' actions "nothing short of murder."