Top German lawyer launches class-action suit against global officials for COVID lockdowns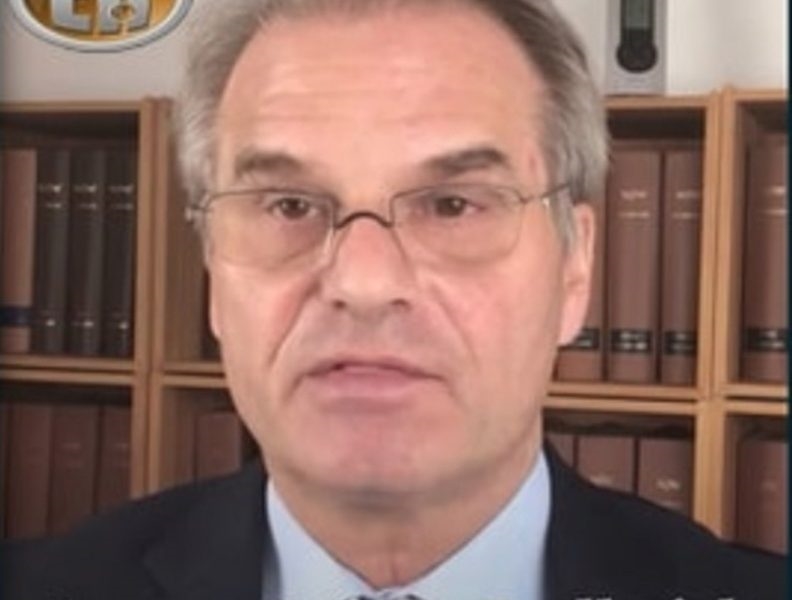 GERMANY – The German Corona Extra-Parliamentary Inquiry is launching the largest class-action lawsuit in history.
Dr. Reiner Fuellmich – a top German trial lawyer who won lawsuits against Deutsche Bank and Volkswagen – is leading a team of 34 lawyers prosecuting global officials over COVID-19 lockdowns.
Their class-action lawsuits target those they believe are responsible for the lockdowns, from local level politicians to the World Health Organization (WHO) and pharmaceutical companies. They seek damages for people negatively impacted by lockdowns, saying it is a deliberate crime against humanity and must be legally qualified as crimes against humanity, as defined in Section 7 of the International Criminal Code.
The lawyers have been investigating since July 2020, interviewing a large number of international scientists and experts.
The claims
The lawyers claim the WHO and some of its partners misled the world over the severity of the COVID-19 pandemic, which prompted lockdown measures they say damaged people's livelihoods and economies.
The lawyers aim to prove that PCR tests were misused to create the appearance of a dangerous pandemic.
"Our focus is upon the PCR test because if we manage to convince a court of law that this is a fraudulent PCR test being marketed with the assertion that it can detect infection – if we can convince a court of law that this is a false statement – then the whole house of cards is going to come crashing down," said Fuellmich.
"That is the tool they're using to keep people in panic mode. And there's no basis for this panic, because as I just pointed out, even according to the WHO, which couldn't escape the conclusions of (Professor) John Ioannidis (of Stanford University) that mortality or lethality is roughly the same as the common flu."
Fuellmich said a number of lawsuits will be filed, starting in Germany, the U.S. and Canada. He said they will use pieces of evidence and expert testimony to convince a court of law that this is a staged pandemic and that there's other goals and other people behind this who are trying to push completely different goals.
"This has nothing to do with the world's health."
Monetary compensation
Fuellmich demands those who have been harmed by the lockdown receive full compensation for their losses.
"Under the rules of civil tort law, all those who have been harmed by these PCR test-induced lockdowns are entitled to receive full compensation for their losses," said Fuellmich.
"In particular, there is a duty to compensate, i.e. a duty to pay damages for the loss of profits suffered by companies and self-employed persons as a result of the lockdown and other measures."
Lawsuit launched in Canada
Fuellmich said class action lawsuits aren't an option in most parts of the world but they are a regular part of legal practice in Canada and the U.S. He said class action suits will be launched in Canada and the U.S., and then these lawsuits can be joined by "all affected parties worldwide."
According to CBC, Ottawa lawyer Michael Swinwood has filed a class-action lawsuit against the governments of Canada and Ontario, individual political leaders, the Bill and Melinda Gates Foundation, and the World Health Organization.
"It's a challenge to what is being put before humanity," Swinwood told CBC. 
"We're saying straight up that there is no justification for the declaration of a pandemic … I'd go so far as to say that what medical science says is that this is no worse than a seasonal flu."
The lawsuit states all the defendants allowed for the bringing in of COVID restrictions and shutdowns "without lawful authority and due process on behalf of the mind, body and health of the Canadian Public."
The class action suit from Ontario claimants include the owner of a convenience store in Henvey Inlet First Nation, a small business owner in Peterborough, a disabled man in Balderson, and a single mother in Toronto.
They are each seeking $1 million, as are the likely millions of "John and Jane Does" named in the suit representing everyone else affected by the pandemic.
Swinwood told CBC that he expects the governments will claim the suit is "frivolous and vexatious" but "that doesn't matter, the facts are all there."
COVID hasn't caused excess mortality: Lawyers
Fuellmich's team of lawyers maintain COVID "has not caused any excess mortality anywhere in the world."
Pandemic measures, however, have "caused the loss of innumerable human lives, and have destroyed the economic existence of countless companies and individuals worldwide," said Fuellmich.
The lawyers claim that the mainstream media, Big Tech, key government leaders, nongovernmental organizations and their chosen health "experts" all created unreasonable and illogical fear.
"Together, they've effectively promoted falsehoods while simultaneously censoring truth," said Fuellmich.
"The end result is devastating to democracy, freedom and public health."
Italy investigation
In February 2021, the lawyers interviewed doctors and experts about the high death toll in Northern Italy when the pandemic first hit. Their main focus was what happened in Bergamo when the world saw images of coffins being carried away in military trucks from hospitals.
Italian physician Dr. Luca Speciani – who was a doctor at Bergamo – told the committee a "great number of flu vaccinations" were done in Bergamo and scientific evidence proves that the flu vaccine made elderly people more susceptible to COVID.
He said the mass flu vaccination campaign combined with transferring COVID patients into care homes, caused more to become ill. He added that relatives of the deceased are now suing Lombardy authorities and the public prosecutor is investigating.
He said Italy is known for its high rate of nosocomial infections, which the elderly and weak are susceptible. Dr. Speciani also claimed many people died with COVID, and not from COVID. He said they were generally in their 80s and had three comorbidities.
All these coffins are part of the 650,000 deaths we have every year in Italy — there is no increase in mortality.

–Professor and nano-pathologist Stefano Montanari
Coffins nothing new in Italy: Italian professor
When a reporter asked Italian Professor and nano-pathologist Stefano Montanari about all the coffins, the professor said:
"All these coffins are part of the 650,000 deaths we have every year in Italy — there is no increase in mortality. And if you go to any hospital, you see coffins coming out every day. Many years ago I turned down a job in childhood oncology, precisely because I could not stand the spectacle of the white coffins that passed by me constantly. We are talking about nothing and, as I said, you know that it is possible to manipulate images and context to achieve the impression you wish to convey. Here we are talking of 3 people's death attributable to coronavirus. If the number does not please the media, that is another matter, but the facts are what they are — and that number, as I said, comes out from the National Institute for Health.
"Look, and I am quoting the National Institute of Health, the actual deaths attributed or certified as having been caused by the corona virus were 3 (this was a few days ago when the numbers reported were already in the hundreds).  And when I hear Mario Giordano (a well-known journalist) say that we should not divulge this news, I wonder what kind of journalism we have in Italy (and maybe in the world). I'm not talking about the parish newspaper, I'm talking about a journalist of great notoriety, who says something contrary to the very ethics of journalism… This man is advocating disinformation.  It is a shame."